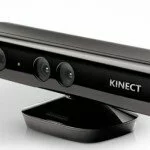 Technology sector news states that Microsoft has announced the launch of Kinect for Windows in the Indian electronic market, along with the SDK.
Now, with the help of SDK, people can develop new apps for the sensor as well as they can create different new things as Kinect offers many more additional features such as improved skeletal tracking, face tracking, enhanced speech, seated mode tracking.
However, the cost price of the new device is bit more due to customs and other charges. It will be available in Indian electronic market for Rs 19,990.
Though, the Xbox 360 version is comparatively cheaper but that do not have a feature to develop new apps for it using the official SDK.
While talking to media, Business Group Lead – Interactive Entertainment Business, Microsoft, Anshu Mor said, "The incredible amount of innovation on Kinect for Xbox 360 this past year shows the potential for Kinect as a platform for developers and businesses to experiment, explore and create new offerings. Furthermore, this is just the beginning."
Further, Anshu Mor said, "This proliferation of great new content for Kinect, which we call the Kinect Effect, will expand even further with our commercial release of Kinect for Windows. We are excited around the new possibilities that Kinect will enable on the Windows platform, and the many different ways each Kinect for Windows based scenario could enrich lives and make using technology more natural for everyone."