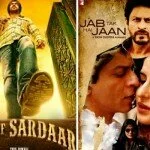 According to latest news, the Competition Appellate Tribunal (CAT) on Thursday refused to grant any interim relief to soon-to-be-released film of Ajay Devgn's movie Son of Sardar (SOS), and issued a legal notice for an inquiry into the alleged anti-competitive activities of Yash Raj Films (YRF) over allegations that it was trying to block the release of Son Of Sardar.
Moreover, the two big budget films 'Son Of Sardar' and Yash Chopra's last film as a director "Jab Tak Hai Jaan' is set to release this Diwali, on November 13.
A statement issued by Ajay Devgn Films (ADF) said, "Considering YRF's statement that only 821 theatres have executed an agreement with it for screening Jab Tak Hai Jaan on Diwali, compared to 1,407 single-screen cinemas for Ek Tha Tiger, the Competition Appellate Tribunal didn't provide interim relief."
Further, Ajay Devgn Films said that they will approach the 586 single-screen cinemas that did screen Salman Khan's Ek Tha Tiger but do not have any collaborations with Yash Raj Films for 'Jab Tak Hai Jaan' and are free to screen their film, Son of Sardar.
ADF statement added, "If the facts given out by YRF are found to be false, which would be proven through evidence after the release of the movie, we will not only continue to fight against YRF's anti-competitive activities on our own but also on the behalf of the entire industry."
On the other hand, Yash Raj Films disproved the statement issued by ADF, and said that the CAT didn't find any merit in ADF's contention on the agreement entered into by YRF with single-screen cinemas.