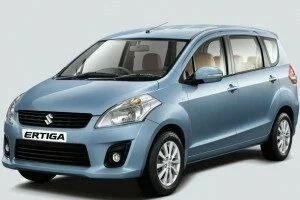 Maruti Ertiga, seven seaters with functioning on different operation together is now ready to run on Indian roads as to be launched today.
Multi functioning Ertiga, will manufacture at its Gurgaon plant, is providing in petrol and diesel variants, based on variant of Ritz and Swift, in views of style and sparking.
This new stylish Maruti's car especially passenger vehicles to offer in multi purpose segments whether it relates to look, interior design, performance and operations to speed up.
If talked about its interior design, there are three rows of seating with dual tone upholstery. Leading with Rs. 400 crore investments for global launch of Ertiga, the Passenger vehicle's steering wheel is under full audio controls.
Giving a strong hold on global market, on track of Swift, Ertiga will stand in front of Toyota Innova and Mahindra Xylo as their rival.
In its earlier announcement, Maruti said its new technically specified model Ertiga is led to capture MPV segment and will have a "complete range of passenger vehicles".
.
"What we are trying here is to create a new segment of compact MPVs, just as we did with Swift in the hatchback segment. We have not been present in the MPV segment despite being the overall market leader in the country," MSI Managing Executive Officer Mayank Pareek said.
Moreover, Maruti's multi purpose Ertiga's one petrol variant is powered by a 1.4 litre engine, deliver 16.02 kmp mileage, while the diesel will have a 1.3 litre power train, gives 20.77 kmpl.