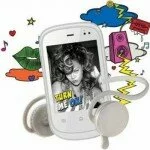 In Indian market Android segment, Micromax has come with its new A44 Superfone Punk, one of the cheapest Android phones, which is available just at Rs 4,500.
Indian market has filled with much available options of Smartphones, but Micromax's A44 Superfone Punk launch is the cheapest, landed with an attractive looking behind the neck ear phone which makes it even more attractive.
Best thing is that phone supports Google Play means users can download and install their favorite apps on it. It also facilitates AISHA voice based assistant as similar to Apple's Siri found on iPhone 4S. Source said, the phone will offer HD Surround Sound as well as crystal audio clarity that would make it really worth buying.
A44 Superfone Punk is a dual SIM phone run on Android 2.3 and comes with neck trendy a set of headphones that Micromax claims to provide. The smartphone has 3.2 touch screen display with resolution of 240×320 pixels, a 800 MHz single-core processor, 256 MB of RAM, 512 MB of ROM.
The phone features a 2.0 megapixel rear camera, 1200 mAh Li-ion battery, 140 MB of internal memory and support a microSD card that supports up to 32GB of external memory. Users can get it with two color options- white and black.
One disappointing thing is that in modern networking trend, the device only supports GPRS and EDGE network, not 3G and without front camera and not GPS supports either.
Moreover, the budgeted users have great offer by Micromax as the cheapest phone launch. And if the device performs specifically then it will surly compete the market and be at top choice of users.