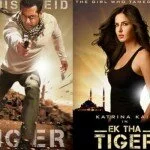 Yash Raj Films has now decided not to screen the family of late RAW agent Ravindra Kaushik for Salman Khan's film 'Ek Tha Tiger'.
This all happened after the family members of the real-life spy late Ravindra Kaushik served a legal notice to Yash Raj Films for a screening of Ek Tha Tiger since they feel there is a striking resemblance between Salman Khan's character and Kaushik's real experiences in Pakistan.
Meanwhile, the production house of the film and director Kabir Khan has decided to keep the content of the film private. Talking to media, the director said, "I read about him in the papers. This is the first time I've heard of him. It's an interesting story. But it's not the story of my film."
The director did not talk much about the film, but source said that the story of 'Ek Tha Tiger' is completely different from the RAW agent Ravindra Kaushik's story.
A source said, "Kaushik was caught and jailed in Pakistan. He died in prison across there. Salman's character comes to an entirely different end. That's why the film is called 'Ek Tha Tiger'. He is like an unsolved mystery."
The films casts Salman Khan and Katrina Kaif in the lead role and will be released allover on 15 August.