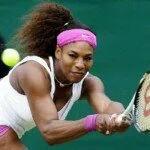 The top rank Tennis player Serena Williams hits top gear in overthrowing champion Petra Kvitova and threateningly for her Wimbledon semi-final rival Victoria Azarenka.
Talking to media, the 4-times champion, Serena Williams said, "I have has nothing to lose in the last-four clash on Thursday."
Meanwhile, Serena Williams has banged down 13 aces in her quarter-final rout of Petra Kvitova, faces the Australian Open champion.
The world number six-tennis player, Serena Williams said, "It's going to be another match where I have absolutely nothing to lose."
She was talking to media after blitzing Kvitova, she said, "I can just go out there and enjoy myself and have fun."
On the other hand, the Belarusian, who beat Tamira Paszek to register her place in the semi-finals, has only beaten Serena Williams once in eight meetings.
Talking to media, Azarenka said, "She's a great fighter."
Further, Azarenka added, "She never gives up. You always see that, no matter what the score is, she will go for her shots…"
Azarenka said, "I don't really like to look back in history because every time you step on the court it's a new story. You kind of write your own history every time."
However, in another semi-final, world 3rd ranks tennis player, Agnieszka Radwanska takes on eighth-seeded German Angelique Kerber.
Angelique Kerber said, "I think against Radwanska it will also be a long match and a tough one because she moves very well on grass."