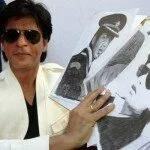 There is no limit to express your love for your lovable stars in the world.
The super star of Bollywood, Shahrukh Khan also celebrates his birthday on November 2, and on this birthday, the actor gets a special gift from his fan, Anupam.
On Shahrukh's birthday, Anupam, presented him a poster of RA.One carved on a slab of marble weighing about 60 kgs.
Sharing the scene with media, an eye-witness said, "The gift took Shah Rukh by surprise. He was touched by the sheer effort put in to make the carving come out so alive. The precision and the perfection of the work impressed Khan. In fact Shah Rukh Khan made it a point to meet the fan separately and posed with him too."
Meanwhile, it costs a huge amount to make inlay carving like the one given to Shahrukh by Anupam.
A source said, "Marbles are expensive stone and to carve and colour the carving costs a bomb. Shah Rukh appreciated that and humbly expressed his gratitude to the fan."