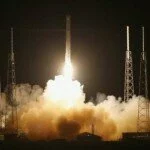 The first commercial cargo launch has hit out by the California-based SpaceX on Sunday.
SpaceX's first owned Falcon 9 rocket and Dragon cargo capsule blasted off from Cape Canaveral for the drive to the International Space Station, performing a mission of crucial delivering.
A mission of SpaceX and US Space agency NASA is a dully signed agreement in sake of awarding a $1.6 billion contract to SpaceX regarding to offer 12 resupply flights to the ISS.
However, reports said that Dragon is powered by nine oxygen and kerosene-burning engines, facilitating scientific experiments.
The Dragon capsule which having capabilities to holding 882 pounds (400 kg) of cargo including food, clothing, science experiments and supplies for the three station residents.
"The SpaceX Dragon is a really important vehicle for us because it supports the laboratory use of ISS both in bringing cargo up to the space station and in bringing research samples home, and it has a great return capability," Julie Robinson, NASA's program scientist said, as source said.
The Dragon which will set to the orbiting lab on Wednesday is likely to return to Earth on October 28 and splash down into the Pacific Ocean off the coast of California, carrying scientific materials, including research samples.