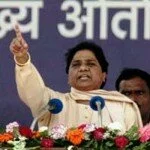 Bahujan Samaj Party chief Mayawati is likely to announce today her decision over Congress-led UPA government, whether to support it or not.
After Mulayam Singh Yadav's Samajwadi Party announcement of supporting UPA , but not FDI issue, now wait is for Mayawati who is expected to make statement after BSP national executive on Wednesday, discussing with her party's top leaders in Lucknow.
"We will hold a meeting of BSP's national executive on Wednesday (Oct 10) to reconsider whether to continue support to the UPA government or not," BSP Chief yesterday said in a 'sankalp maharally' in Lucknow.
BSP's chief ensured that her party remains opposed to FDI reforms in retail which approved by Prime Minister Manmohan Singh government and as resulted losing biggest ally, Mamata Banerjee, reducing to a minority. As Lok Sabha Elections are coming more early and Mayawati also said to get ready for polls and source said for that back channel talks is going on with government.
Mayawati party is seeking to strengthen it by de-link it with stand on reforms against Samajwadi Party chief Mulayam Singh Yadav who has strong in power in Uttar Pradesh and also chances in upcoming elections. BSP in need to re stand support tried to take the public in confidence, explaining party operations of spending nearly 4 lakh for Dalits, backwards and adivasis to extend the BSP's area to many states which has never followed by any government.
Meanwhile, UPA government is in minority having 254 MPs, much needed of the outside support of BSP, which has 21 MPs and SP with 22 MPs. As per present circumstances, it expected that Lok Sabha Polls are to be scheduled much early which would not want by Mulayam to go as it reduces its winning chances in election.
All eyes are set on Mayawati who is to announce her continuance to support the UPA , ensuring its survival with proving a strong major ally.