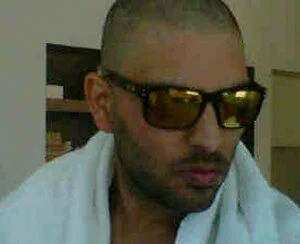 The latest updates of Yuvraj Singh's health are that the player is undergoing chemotherapy in the US for a rare germ cell cancer.
The cricketer also posted a picture on Twitter that shows him without his hair.
Yuvraj Singh tweeted: "Finally the hair has gone, But #livstrong #yuvstrong."
The superb middle-order batsman from the Indian cricket team further writes that he is recovering well and can't wait to get back into the national team.
He further thanked his fans and promised to make a powerful comeback in the Indian cricket team. He posted that he spent 20 min on the cycle in the gym and says that Amul's new ad Yu and Vi will fight this together 'is very cute'.
Earlier on Wednesday, Yuvraj talked to media, for the first time since the news of his cancer came into light.
He posted on twitter, "I will fight and come back as a stronger man cause I have the prayers of my nation ! Thank you to the media for their support and respecting my privacy."
Yuvraj further adds, "and of course everyday I look forward to come back and wear my india jersey my india cap and represent my country again jai hind."
"Overwhelmed with the love and support people have given me, I feel joy in my heart that so many wishes. Will cure me!," Yuvraj tweeted.
The cricketer Yuvraj Singh is in US for more than one month and presently undergoing chemotherapy in the Cancer Research Institute in Boston.
Yuvraj posted on social networking site, "I have read every tweet of every fan who has wished me watched all videos ! Seen how many prayers are said in temples ! I thank you all from the bottom of my heart."
In addition, the cricketer also thanked the Indian Cricket Board [BCCI] saying, "The president and members of BCCI have been a huge support in my tough times and because of them I'm getting the best treatment ! Thank you again BCCI."
It is said in reports that he is reading Lance Armstrong's autobiography for motivation along with being treated by the same doctor who cured Armstrong's testicular cancer, is dedicated on meeting the legendary cyclist.
"I look forward to meeting lance armstrong soon and take inspiration," he said