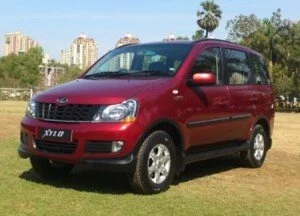 The latest technology sector news reveals that Mahindra & Mahindra Ltd, India's premier utility vehicle (UV) firm, has finally launch the new version of Mahindra Xylo in New Delhi on Wednesday, February 8, 2012.
Meanwhile, the newly launched vehicle by the company [Mahindra Xylo MPV] is powered by the Mhawk engine in top end E9 model and voice command technology (VCT) to control the SUV.
M&M chief executive for automotive division Pravin Shah said, "This technology is adopted for the first time ever in the auto industry in the country, probably in the world, and has been developed in-house and is patented."
The company made some changes in the look as well, in addition to this, new Mahindra Xylo has a new bonnet with integrated Mahindra logo, new headlamps, new grille, new bumpers and also some minor changes in the interior of the Mahindra Xylo.
The company has powered the Mahindra Xylo steering with audio control
It is said in reports that the new Mahindra Xyloto will be much more stronger under the hood then before.
While talking to media at the launch, Pravin Shah said, "The new Xylo marks the sixth new launch from the Mahindra stable this fiscal."
The price of the new Mahindra Xylo has been now increased by the company by Rs. 15,000, the ex-showroom Delhi price of the earlier version of Xylo ranged between Rs 7,01,200 – Rs 9,16,600.
Some reports have said that Mahindra will launch its 5-seater Mini Xylo by April 2012.