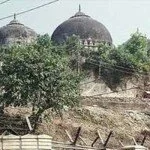 Today 20th anniversary of demolition of Babri Masjid, but still sensitive issue of 'Ram temple' in Ayodhya  is carry on, expected to reach at the unrest situation as chances of more communal clashes are high in the coming days.
According to reports, a month-long campaign 'Bombay ki Kahaani, Mumbai ki Zubani' will start on December 14 to mark the 20th year of the demolition of Babri Mosque which was razed to ground on December 6, 1992.
Activists, academics, students, filmmakers, journalists and organisations will participate in the campaign, presenting cultural programmes, songs and documentaries at various places, source added.
As Gujarat Elections nears, chances of clashes are more. Moreover, banners of Gujarat CM Narendra Modi set to take people in trust by seeking to show better future in UP.
Claiming BJP's participation in communal riots, Azam Khan, Urban Development Minister has alleged Lallu Singh, then the BJP MLA to activate them. Even minister claimed to be in possession of a CD to prove, source said.
Reacting over this, Wednesday BJP challenged Azam to prove this by making the CD public.
On eve of demolition of  Babri, all the route lead to Ram Janmbhoomi-Babri Masjid site have sealed and policemen gave deployed along with barriers at 32 places in Ayodhya-Faizabad to prevent violence which will remain till next week.