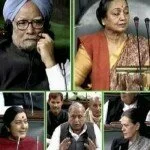 Finally amid controversial FDI in retail row has bowed in Parliament with victory of UPA government by majority in voting- a total of 471 out of 545 members in which 218 votes are in favour while 253 are against Opposition motion against FDI.
To pass out UPA biggest reform of FDI in retail in the Lok Sabha open up multi-brand retail trade to foreign investors, major role has played by SP Chief Mulayam Singh Yadav and BSP Chief Mayawati, saving UPA from an embarassing defeat as an Opposition-sponsored motion against UPA over FDI in retail.
Opposition and TMC had held a motion against amendments to the Foreign Exchange Management Act (FEMA) to facilitate foreign investment in multi-brand retail, which was warmly defeated in House.
Both parties- firstly BSP and then SP walked out in Lok Sabha with MPs just before the Opposition motion was put to vote, clearing floor for the government to win the vote. After resulted announced by Speaker Meira Kumar, Prime Minister Manmohan Singh told reporters after voting that his government has the "support" of the House on the decision of FDI.
FDI amendment is the biggest lose for TMC also, Chief Mamata Banerjee said on her Facebook page, "It is a shame! The mandate today proves that the UPA-II is a minority Government…This Government has lost its credibility. They must take fresh verdict from the people."
Slamming SP and BSP, Leader of the Opposition Sushma Swaraj said that it was a "moral" defeat for UPA .
"How vociferously Mulayam ji had opposed FDI…if he had voted with us, FDI would not have been implemented. It is not a question of BJP, this is not a communal issue. But the problem is the issue has now become FDI vs CBI…When the BSP wants support, they come to us and then we aren't communal. This dichotomy won't work." Ms. Swaraj said, as per source.
"Behenji (Mayawati) came to meet Arun Jaitley and I, to solicit support for the quotas in promotions bill. This cannot be an unequal transaction where we support your issues and you back out whenever convenient," she added against Mayawati.
Meanwhile, now UPA has not worried about its position in Rajya Sabha voting over FDI starting from tomorrow, as of having majority in number of seats. Wait if for immediate operationalising of FDI in various sectors.