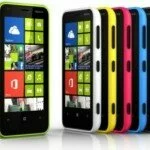 Lining up its Windows Phone 8 portfolio, Nokia has recently announced its next addition Nokia Lumia 620, launched in Paris.
Nokia Lumia 620 is the strongest flagship as of third Window Smartphone in Lumia Windows Phone 8 family, the most affordable Lumia Series handset with WP8 OS platform, available in seven colours with switchable backs single layer.
The latest brand new- Nokia Lumia 620 will come with a 3.8" ClearBlack WVGA touch screen LCD and a 1 GHz dual-core Snapdragon S4 chip processor with 512 MB RAM and 8GB onboard expandable via microSD up to 64GB. There is also an addition 7GB of free SkyDrive cloud storage.
Offering a variety of preloaded Apps for users as like of Lumia 820 and 920, Lumia 620 is coming with Nokia Music, Nokia City Lens, Smart Shoot and Cinemagraph. It has been said that Nokia Lumia 620 is likely to make available at price of $249 in the US, and very soon in next year will ship on shelves of markets in Asia Pacific.
The device will bundles with 5MP rear shooter with 720p HD video recording @ 30fps, VGA front-facing camera for video conferencing along with a Wi-Fi radio, Bluetooth, NFC, 3G (HSPA+) connections.
In Indian Market, Nokia Lumia 920 which has already launched in market across the world, has not still made available, is in wait and it is expected that same thing might be repeated with latest Lumia 620.Indian Users have to wait for affordable Nokia Lumia as no confirmation on date of release and price has not revealed by the company.