Amid Budget 2013 proposals, Oil marketing companies on Friday has hiked Petrol prices by Rs 1.40 per litre, the second big increase as many weeks.
The hike is excluding VAT, with effect from midnight tonight and the actual increase for consumers would be more after including the tax incidence, sources said.
In Delhi, as per reports, the price of Petrol for consumers will be Rs. 70.74 a litre from Saturday as against Rs. 69.06 a litre currently.
Petrol in Mumbai will cost Rs. 77.66 a litre, in Kolkata it Rs 78.34 and in Chennai the cost will be Rs 73.95.
The rate of petrol at pumps of Oil corporations are varying as per place as Indian Oil Corp (IOC) petrol pumps takes revised rates with effect from midnight tonight.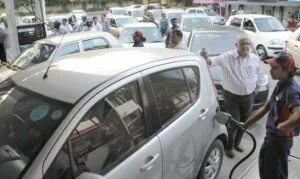 The rise in international crude oil prices and weakening rupee has the major cause that pressured to pass an increase in petrol to consumers.