In yet, time is for BJP walk on its strategy to be prepare for the next general elections, a meeting of its National Executive and National Council is set to start on Friday.
A close door meeting of BJP Executive is likely to focus on Gujarat Chief Minister Narendra Modi, deciding his elevation for PM candidature, the most debating issue in the country.
The meeting will be held on Delhi and BJP National Council for next two days is likely to  discuss its tactics for Lok Sabha 2014, but much focusing on Assembly polls will be held later this year.
Meanwhile, BJP Conclave is the crucial as it will be the first of Rajnath Singh as party chief after Modi's third successive win in the assembly polls in Gujarat.
Sources said that Modi's elevation could be finalized for the Lok Sabha polls at the national council meeting after discussing others like Hyderabad Twin Blasts, VVIP Chopper Deal scams.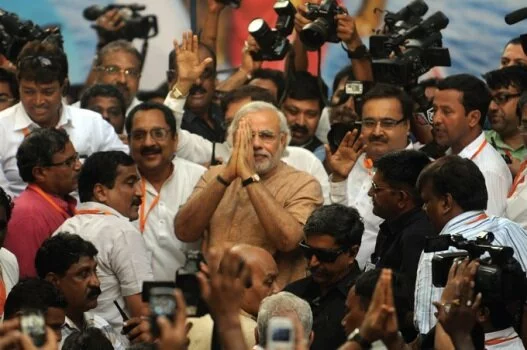 There would be about 200 BJP members including MPs and MLAs of state assemblies in NDMC convention center where BJP Conclave will hold. The much debate seems to over how to take on the UPA government on the issues of its failure on economic slowdown and internal security, reports said.