In a huge break-though of drug racket, the Punjab police have recovered heroine worth Rs 130 crore from a flat in Zirakpur, Mohali.
Further, it is said in news that Indian boxer Vijender Singh's wife's car was found outside the flat and 10kg of heroine was recovered by the police from another car.
However, it was not clear that it was recovered from Vijender's wife's car or not.
The local police told media that one person was arrested on March 3, named Anup Singh Kahlon, has friendly relations with the boxer and another boxer Ram Singh.
In addition, the accused has said that he supplied drugs to Vijender and Ram Singh.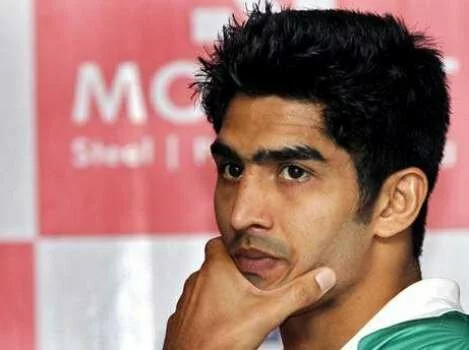 Talking to media, SSP Fatehgarh Sahab Hardyal Mann Singh said, "Nothing can be ruled out and we are probling the links between the accused and the boxers."
Some reports have said that this could be a part of bigger racket, the arrested person is a truck driver in Canada and part of a drug network in Punjab.
On the other hand, Vijender's coach Gurbaksh Sandhu has expressed shock at the news.
Boxer Vijender Singh won a bronze at 2006 Asian Games in Doha, bronze in Beijing Olympics. He was also honoured with Rajiv Gnadhi Khel Ratan award and was 2009 top-ranked boxer in middle-weight category.