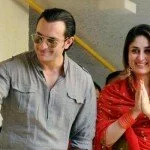 The most beautiful Bollywood couple, actor Saif Ali Khan and gorgeous actress Kareena Kapoor's wedding reveals at the Taj Mahal Hotel started on Tuesday night and into the wee hours of Wednesday morning, when the newly wed couple reached Saif Ali Khan's residence at Fortune Heights in Bandra.
Once again, the two families and Bollywood is ready for a fresh round of celebrations.
Yesterday, a special daawat was assigned for two families and close friends. The daawat includes Saif's mother Sharmila Tagore, sisters Soha and Saba Ali Khan, Kunal Khemmu, Randhir Kapoor, Babita and Karisma Kapoor and of course Saif Ali Khan and Kareena Kapoor.
Reports have said that the couple wasn't allowed any non-veg fare after their saatpheras the previous evening.
Therefore, it is expected that this lunch was organized by Saif for those who missed out on their favourite cuisine. In addition, around 15-20 of the Saifeena's friends were invited to their lovable eating places in Sobo.
Today, October 18, 2012, Saif Ali Khan and Kareena Kapoor will fly to Pataudi Palace for the Nikaah and Daawat-e-Walima.
And, reports have said that newly wed couple will thereafter fly to one of the Mediterranean islands for their honeymoon.