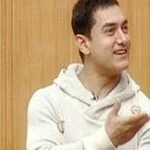 The Mr. Perfectionist of Bollywood, Aamir Khan has recently said that his highly popular TV show "Satyamev Jayate' has taken him close to the reality of life in the country.
Speaking in 'Aap ki Adalat' on India TV, the actor said, "The show has brought me in touch with reality and taught me so much in the last two years that it can never be measured in money."
Aamir said, "As creative persons we entertain people, but we also feel we have to contribute to our society by bringing about improvement in the social fabric and inculcate better values."
Further, the actor said, "Two things are required to change India: one, all of us should change our attitude towards females, and two, we should not be self-centric and think about working in the larger interest."
In fact, Aamir said that he often cried while working on the 'Satyamev Jayate' which aired on Star Plus.
He said, "I wept several times while shooting for `Satyamev Jayate` and the shooting had to be halted. It was terrible when common people narrated their woes. Even when I go abroad, I feel homesick and start weeping."
He added that police had provided required security to Mahvish, widow of Abdul Hakim, a resident of Bulandshahr in Uttar Pradesh, who was reportdelly killed by his wife's family.
Aamir Khan said that all the five accused have been arrested by the police.