After the superb opening of the IPL season 6, winners of the last season, Kolkata Knight Riders beats Delhi daredevils in the opening match of the Indian Premier league, IPL 6, played at Eden Gardens on Wednesday.
KKR beats DD by 6-wickets while chasing a mere total of 129 runs.
Captain of KKR, Gautam Gambhir won the toss and elected to bowl first. Delhi lost its opener Unmukt Chand on the very first ball of the innings bowled by Brett Lee.
Mahela Jayawardene, captain of DD, was the only batsman who scored 66 runs, and helped his team to bring close to 130 runs in 20-overs play.
Sunil Narine, Man-of-the-match, was the pick of the bowlers for the Kolkata Knight Riders, taking 4 wickets for just 13 runs in his 4-overs spell.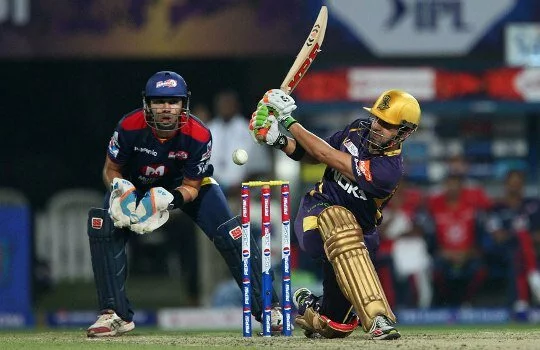 Gautam Gambhir led his team from the from, making 41 runs with five fours and one huge six.
SCOREBOARD
Delhi Daredevils: Unmukt Chand b Lee 0 (1b), David Warner c Kallis b Narine 21 (19b, 4×4), Mahela Jayawardene c Narine b Lee 66 (52b, 8×4, 1×6), Manpreet Juneja c Shukla b Balaji 8 (9b, 1×4), Naman Ojha c Lee b Bhatia 9 (9b, 1×4), Johan Botha lbw b Bhatia 7 (6b, 1×4), Irfan Pathan c Tiwary b Narine 4 (7b), Andre Russell c & b Narine 4 (8b), Shahbaz Nadeem (run out) 4 (8b), Ashish Nehra c Shukla b Narine 0 (1b), Umesh Yadav (not out) 0 (0b); Extras (b-1, w-4): 5; Total (in 20 overs): 128.
Fall of wickets: 1-0 (Unmukt), 2-44 (Warner), 3-59 (Juneja), 4-79 (Ojha), 5-88 (Botha), 6-97 (Pathan), 7-113 (Russell), 8-125 (Jayawardene), 9-128 (Nehra).
Kolkata Knight Riders bowling: Lee 4-0-40-2, Kallis 3-0-23-0, Balaji 4-0-20-1, Narine 4-0-13-4, Bhatia 4-0-23-2, Shukla 1-0-8-0.
Kolkata Knight Riders: Manvinder Bisla c Chand b Nehra 4 (9b, 1×4), Gautam Gambhir lbw b Botha 42 (29b, 5×4, 1×6), Jacques Kallis c Unmukt b Nadeem 23 (20b, 5×4), Manoj Tiwary c Ojha b Nadeem 23 (23b, 2×4), Eoin Morgan (not out) 14 (15b, 1×4), Yusuf Pathan (not out) 18 (16b, 1×6); Extras (lb-2, w-3): 5; Total (for four wkts. in 18.4 overs): 129.
Fall of wickets: 1-5 (Bisla), 2-52 (Kallis), 3-93 (Gambhir), 4-99 (Tiwary).
Delhi Daredevils bowling: Pathan 2-1-15-0, Nehra 3-0-20-1, Umesh 3-0-23-0, Nadeem 4-0-22-2, Botha 3.4-0-23-1, Russell 3-0-24-0.
Man-of-the-match: Sunil Narine.