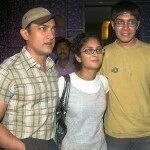 According to latest Bollywood news, Bollywood actor Aamir Khan's son 'Junaid' is all set to enter in the Hindi film industry.
Junaid, the 17-years-old, son of Aamir Khan and his first wife Reena Dutta is set to make his debut in Bollywood.
However, reports have said that Junaid is not going to make a big on the silver screen, but he will only assist director Rajkumar Hirani.
Further, reports have said that Junaid have been asked to assist director Rajkumar Hirani on his forthcoming film named as 'Peekay', casting Aamir Khan and Anushka Sharma in the lead role.
Junaid has had a big attraction for direction and therefore he wanted to enter into the industry so early in life. But, he convinced father Aamir Khan that this would not affect his studies.
Now, let's wait and watch, if Bollywood gets another Mr. Perfectionist or not! Though, we wish all the best to Junaid.