According to latest political news, the leader of Aam Aadmi party [AAP] Arvind Kejriwal on Saturday lambasted the recently revised Goa Lokayukta Act alleging that chief minister Manohar Parrikar was "trying to protect corrupt people."
While talking to media, Arvind Kejriwal said, "Parrikar is said to be an honest person. Then why is he trying to protect corrupt people."
Kejriwal asked, "Manohar Parrikar is said to be an honest person. Why is he doing this? Why is he trying to protect corrupt people? What are the pressures on him? Is he giving a message that development is linked to corruption."
Kejriwal, the anti-graft supporter, appealed people of the country as well as Goa not to accept the act, which he alleged was revised to help the corrupt people go scot-free.
The act said that chief minister or minister "may resign" if found guilty by Lokayukta has met with strong opposition from India Against Corruption activists.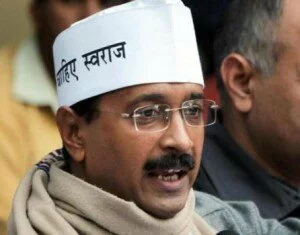 However, another clause which upset India Against Corruption [IAC] that if the Lokayukta recommendations are not accepted by the government in three months, it would amount to be deemed rejection.
Arvind Kejriwal called it as 'a first in history'.
He said, "If the Goa government does not accept the decision of the Lokayukta in three months, then it would be deemed to have been rejected. Anywhere else, it would be a case of being deemed to have been accepted."