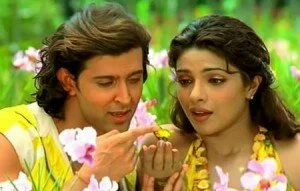 If believed on latest Bollywood gossips, actor Hrithik Roshan and actress Priyanka Chopra are set to star together yet another film. After the huge success of Agneepath at the box office, people love to see the two actors on-screen once again.
Though, there are reports that the actress being singled out by many bollywood biggies after her closeness with Shahrukh Khan, Hrithik decided to stay along with his old friend.
While talking to media, a source said, "Hrithik and Priyanka have known each other for quite sometime now and they share a very warm equation. Even on the sets, they are very comfortable around each other. Precisely why she is part of the Krissh franchise, and he has chosen to work with her in the future as well."
Though Hrithik and Priyanka are doing Krissh 3, their forthcoming film further improves their chemistry. Sources said, "People liked them together in both Krissh and Agneepath. Both their previous films were action films, but this one will have a very strong romantic angle to it as well."
However, in the last few months Priyanka Chopra has faced many ups-and-down in her personal life. But, now the actress decides to set all that behind.
Sources further said, "She is taking her time and choosing her films. Right now she is very busy with her superhero project."
At present, the actress is busy shooting a film with Ranbir Kapoor. And her next project would be with Hrithik Roshan.
Talking to media, Priyanka's spokesperson said, "Priyanka is shooting for Krissh 3 right now with Hrithik Roshan. We want to forcefully say that she has not been approached for any other film with Hrithik as yet."