In order to make a direct interaction with Indian customers through E-commerce, U.S. online retail giant Amazon has asked Indian government to make relaxation on online retail law.
The company has keen interest in foreign direct investment (FDI) in the e-commerce sector to offer selling services for its products directly to the consumers, for that it sought removal of ban on direct sales in India.
Indian government has forbid Amzon's shopping portal Junglee.com, for doing direct sales to customers. Amazon subsidiary has launched in 2012 and only directs shoppers to other sites and vendors, instead of selling the products to them directly.
A meeting held in New Delhi between Commerce and Industry Minister Anand Sharma and Amazon Global vice-president, Paul E. Misener, discussing the issue, sources said.
In India, 100 % (no restrictions) foreign direct investment (FDI) holds for online B2C (business-to-consumer) retail, while only 51 % FDI in retail businesses.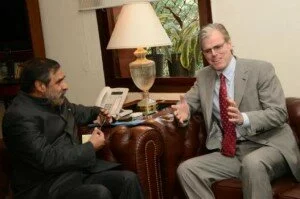 It has been said that Amazon which ahs been employing around 9000 employees in India, is seeking a change in policy for retail e-commerce as a better way to serve Indian customers, both sellers and buyers.