The Bollywood actress Kareena Kapoor is in Bhopal for the shooting of her upcoming film Prakash Jha's Satyagraha.
Meanwhile, the royal family of her husband, Saif Ali Khan, was also settled in the same city, capital of Madhya Pradesh.
Talking to media, a source said, "Kareena is staying at the same hotel where Amitabh Bachchanji will be received. The red carpet was rolled out for her with a grand welcome ceremony including aarti, teeka and garland."
Source further said, "Kareena prefers to be simple and her taste in food is also similar."
It is said in news that actor Saif Ali Khan gifts solitaire Joining Bebo in Bhopal will be husband Saif and mother-in-law Sharmila Tagore.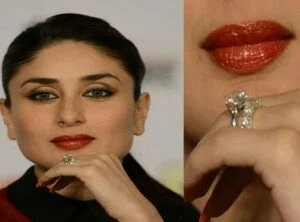 Now, it is clear that Saif and Kareena will celebrate their Valentine's Day in Bhopal this year.
And according to a source close to the couple, Kareena has already received her gift – a solitaire!