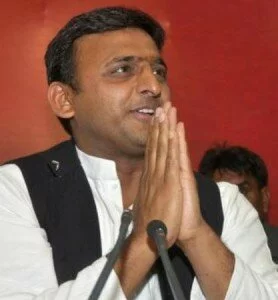 Akhilesh Yadav who will be sworn in as Uttar Pradesh CM on 15 March remarked his thought of possibility of the Third Front in future that raised the tension from his colleagues.
While Akhilesh on Monday denied that his party was in touch with Left parties and marked a political Third Front as a good beginning, Congress had sleepless nights with a hope to stand its govt. at Centre.
Further he explained that there was no move as of now to form a Third Front, he termed its possibility a healthy development for politics.
Third Party move has beneficial for Congress which heads a troubled coalition at the Centre, failing in the assembly elections in Punjab and UP.
Trinamool Congress set itself to establish better hand by hand with the Samajwadi Party as well and for that Congress has started talking about a UPA co-ordination committee to keep the allies RJD chief Lalu Prasad Yadav, posted.
Talking about the possibility of a mid-term poll, the PM expressed confidence that the UPA government would complete its term.
Congress MP Jagdambika Pal revealed a statement, "The Third Front may be a distant dream. We can foresee a tussle for power as each considers himself/herself to be a bigger leader than the other. Mamata Banerjee, Nitish Kumar, Jayalalithaa, Mulayam Singh… who will head the Third Front and who will be their PM? A lot has to be sorted out first which is not possible so soon."
While this amid reports revealed, all the regional parties like BJP and SAD are waiting in possibility of new alignments and early general elections.
Though Mr. Yadav has a meeting this morning with the Left's Prakaksh Karat that will be resembled with his interest in a Third Front, but 38 years old young Akhilesh refused to work out the formation of earlier general elections. He said, "The chances of a mid-term poll happening doesn't look likely."
The SP govt. won the assembly election by highest margin and as resulted young Yadav in support of Senior Yadav will be the State's new CM whose main targeted point is to improve the status of UP nothing else.