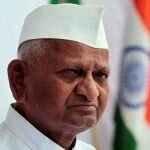 The social activist Anna Hazare was admitted to a hospital in Gurgaon on Friday after he complained of acidity but he is "doing perfectly fine".
Now, reports have said that Anna Hazare will be discharged from the hospital today, however, Kiran Bedi tweets that the doctors attending Anna Hazare have not yet conveyed the same.
Kiran ji tweets, "Anna is still recovering. The attending doctor has not conveyed the fact of discharge yet! Hence we wait to know."
Earlier, Anna Hazare complained of acidity and weakness on Friday and later admitted to the Medanta Medicity in Gurgaon.
Doctor attending Anna said, "He is doing perfectly fine. No problem at all. He complained of acidity."
The social activist's supporter Kiran Bedi and anti-graft leader and founder of Aam Aadmi Party [AAP] Arvind Kejriwal broke the news of his ill health on a social networking website.
On Saturday morning Kiran Bedi tweeted, "Anna recovering. Attending Doctor has directed for no visitors for now. Request for Patience and Cooperation from all keen to meet Anna."
And, on Friday night, Kiran Bedi cleared that Anna is doing fine and thanks to sound medial care as well as strict adherence to hospital rules.