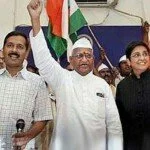 Anna's four-day ultimatum to government on decision of Lokpal Bill has ended today. And now stage is ready and also Gandhian Anna Hazare set to start his fast-unto-death on Sunday at Jantar Mantar for a strong Lokpal.
There was low reaction of thin crowd this year even after much campaigning that disappointed Anna Team, but it is said to be strong today as a Sunday, expects that more people comes in support of Anna who undergo fast even his health is still not good.
His protesting anti corruption team member Arvind Kejriwal along with another Manish Sisodia and Gopal Rai are also presented to join Hazare on an indefinite fast.
Anna team requested him not "to go on a fast. His life is too precious," but Gandhian Hazare decided to go with his four-day ultimatum to government on a decision on Lokpal Bill.
"I will fast until we get Jan Lokpal," Hazare said.
Actually, Anna's protest is of middle class protest which came ahead make its presence on the weekend. While there were many rural and semi urban areas citizen who came Jantar Mantar yesterday and join Anna's fast.
Accusing the UPA-led Congress government of disgraced continuously on Lokpal, Anna said the country's future does not lie safe in their hands. He fully dismissed his intension to join the elections, but he would campaign for those who are of clean image and elected honestly by Janta.
He also said that if the government does not stand with its point on his decision, then he will fast again and again for which the government is forced him.
Source said, about next Lok Sabha elections, Social activist said, if "good people" do not enter Parliament, there will be no change in system and country will not get a strong Lokpal.
Over all, today will see the Anna campaign attack over targeting the Prime Minister, the Home Minister and the government which is still in cold form, but no one know what has happened and when.