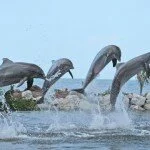 Dolphin , India's national aquatic animal that is poaching by hunters and declared as endangered species by the International Union for Conservation of Nature (IUCN).
To make sure the safety of the Gangetic river dolphin, dolphins in the Ganga, the chief minister Nitish Kumar held a meeting with deputy chief minister Sushil Kumar Modi along with other minister of the state wildlife board to proposed a revised plan of setting up Asia's first Dolphin Research Centre in Patna.
For this detailed proposal, Ministers has asked state planning secretary to go with the Planning Commission and make ensure that it is required to have a dolphin center in Patna University (PU).
The action plan came after visiting of Planning Commission deputy chairman Montek Singh Ahluwalia had made in Patna on February 18, 2012.
While he was watching dolphins in the Ganga, he confined that anytime of financial help in setting up this centre will be provided by him, Gangetic dolphin expert and Central University of Bihar's environmental science department head and a member of the National Ganga Basin Authority, Ravindra Kumar Sinha told reporters.
Asia's first Dolphin Research Centre is likely to place on the bank of the Ganga near PU, basis the conservation of dolphins.
The Gangtic river dolphins that are fall under Schedule I of the Indian Wildlife (Protection) Act are regularly targeted by poachers for their flesh and oil to be used in an ointment and aphrodisiac.