Amid spotlight at BJP National Council and being the star of meet, Gujarat Chief Minister Narendra Modi will on Sunday address the party members in New Delhi.
Modi, the undoubted favourale for Prime Ministerial candidate, was got special welcome by BJP President Rajnath Singh with a standing ovation as a "popular chief minister" at the meeting on Saturday including senior party leaders.
Reports are that BJP is finding a special space for Modi in its Central Parliamentary Board ahead of the 2014 Lok Sabha elections as it authorised Singh to reconstitute the Parliamentary Board, a significant move for Modi.
Rajnath will constitute his BJP team for challenging Lok Sabha as well as General Election 2014 and apart with Modi, Madhya Pradesh Chief Minister Shivraj Singh Chouhan is also expected to induct into BJP's highest decision-making body.
The newly elected president will also constitute his National Executive to chalk out roadmap for the upcoming Assembly elections in Rajasthan, Madhya Pradesh, Chhattisgarh, Karnataka, Delhi and Jharkhand. Following that, Singh is likely to announce his team of central office-bearers, including general secretaries, vice-presidents and secretaries, reports said.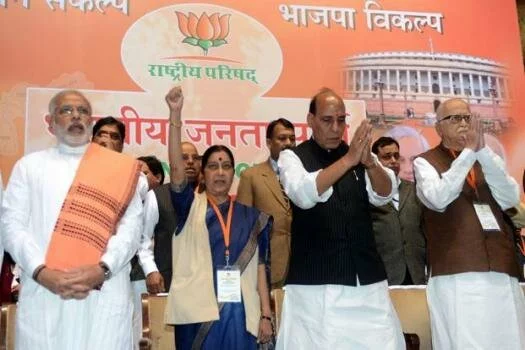 All in all, focus is on Modi to be showcased by his party as BJP Prime Ministerial candidate. He will also play a key role in the election campaign of the BJP, following his speech on "good governance" to the Council members today.
However, still no announcement has to be made over Modi-for-PM as the decision will be taken by the Parliamentary Board.