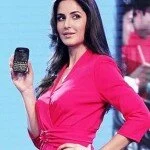 Recent time, if any market segment is growing rapidly then that is of Smartphones.
In India, there are so many telecommunication firms that entered in it with their newly stylish Android OS phones but simultaneous in specifications.
Follow the path; Research In Motion has launched for the first time in India its BlackBerry Curve 9220 smartphone that is available at Rs 10,990 with a plan of downloading selected apps worth Rs 2500 for free from BlackBerry App World.
"The new BlackBerry Curve 9220 offers a unique mobile experience that young Indians will love thanks to its affordable pricing and unmatched messaging and social connectivity features," RIM Managing Director India Sunil Dutt told reporters.
This offer deals with a big series of apps such as Pencil Camera, Photo Studio Pro, Games- Ultimate Cricket, Horoscope Oracle – Follow Your Lucky Stars, Drive Safely Pro and many more interesting apps that will be available only for BlackBerry Curve 9220 customers till 30 June, valid period.
This Curve 9220 has a Black Berry messenger key, run on Black Berry latest operating system 7.1 OS, features a built in FM radio with a 2 mega pixel camera and a long battery life.
BlackBerry Curve 9220 new smartphone, globally launched from India, is said to be an attempt to make affordable apps for customers of App World, so that there is a decline of the Android Play Market slope specially of Google, which offering more free apps.