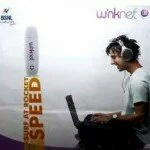 As per latest reports, the 3G Wi-Fi router known as Winknet MF50 is ready to land in the market today, unveiling by Bharat Sanchar Nigam Limited (BSNL) collaboration with Shyam Networks.
Following the techno trend to cut off 3 G tariff plans by telecom companies, BSNL also seeks to expand its 3G services applications to capture large segment market.
From tomorrow, BSNL 3G pocket routers that cost Rs.5,800 will be officially unveiled to set in the market for purchase with attractive data plans, BSNL officials told reporters.
"3G WiFi Router, Winknet MF 50, will be made available from tomorrow at all the BSNL stores for Rs 5,800. It will come bundled with attractive data plans that BSNL will announce tomorrow," source said.
Due to having small size, the 3G services provider router can take anyplace with yourself in case of work attached with travel.
Having compatibility of connection with phone, laptop, tablet and any device, the router acts as a Wi-Fi hotspot converts the data signal connection to WiFi, being able even five users simultaneously work together, report said.
BSNL has good partnership deed with Shyam Networks as both companies are already associated on launch of a Winknet, 3G dongle in Uttar Pradesh few months ago.
This 3G data card is available at price of Rs.1,900, also supported 2G connection and has a7.2Mbps download speed and an upload speed of 5.76Mbps.