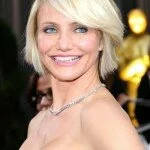 Actress Cameron Diaz will have a cheetah as her pet in the upcoming film "The Counselor" and will even share her bed with the animal in a scene.
The 40-year-old even let the beast roam free around the grounds of her home and this caused some major production headaches during shooting.
"When Cameron first started working with the cheetah, it was strutting about like it owned the place. But now she's wearing the trousers," thesun.co.uk quoted a source as saying.
"It has taken a shine to her, which is good because they've had to shoot a number of scenes together, including a set-up where they shared a bed. The specialist animal handlers have been close by in case the cheetah gets a bit carried away," said the source.
"The Counselor", also starring Brad Pitt, is slated to release next year.
The drug dealer drama is directed by Ridley Scott, written by novelist Cormac McCarthy and also stars Penelope Cruz, Michael Vastbender and Javier Bardem. (IANS)