Jammu and Kashmir an all-girls rock band has decided to quit for any live performances after a fatwa issued against them by the valley's Grand Mufti describing singing as un-Islamic and asked them to abandon it.
He called music as imbibe moral values and advised all women in country to wear vein at all times.
In front of three band members, the backlash has been prevailing, adding more worried for their families also.
There are several musicians, politicians and others across India come in support of the Class 10 girls who came to limelight in December last year after winning performance at the annual "Battle of Bands" competition held in Srinagar.
All are urging trio not to give up and to ignore a handful of morons who are trying to silence them.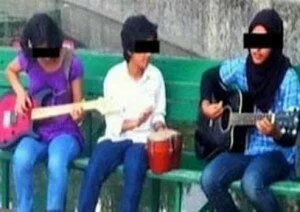 Among supporters, State Chief Minister Omar Abdullah is one who promised an inquiry into the threats the trio girls faced.
He told reporters that he will offer security for the band, but that it is upto them to decide whether they want to play.
The rock band 'Pragaash' members who made popular last year, had faced many death threats and absurd comments by extremists on Facebook, forcing them to keep a low profile.