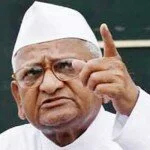 Social Activist Gandhian Anna Hazare announced to launch campaign only for activist-cum-politicians Arvind Kejriwal's candidates, declining the possibility of supporting good people  from other parties.
Mr. Hazare accused all those political parties which play game in politics in the name of caste and communities, and said that they all worked just for funding in form of donation from vested interests and corporates.
While talking about Jan Lokpal Bill in Parliament, Mr. Hazare criticized Govt to be afraid only of collapse. He said that there was no effect on it whether of any agitations or dharnas.
"Governments, be at the Centre or in states, are afraid of losing power. They know that people can bring them down. The people must realise that they are the real masters. I will make people aware of their rights," Gandhian said in Bhubaneswar on a three-day Odisha visit since Thursday, reports said.
Urging people to use their power and keep continuously the government under pressure, Hazare told gathering that he planned a nationwide tour , appealing the public to support and ensure passage of the Jan Lok Pal Bill before the 2014 elections.
"Recently Congress president Sonia Gandhi asked her partymen to hit the streets on coal scam. Similarly, the BJP leadership also directed its rank and file to oppose LPG case and FDI. I am doing this for passage of the Jan Lokpal Bill," he further added.