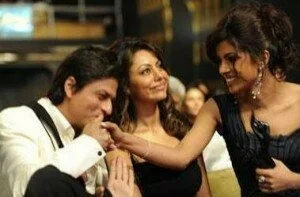 Now it seems to be very tough time facing by Bollywood Don Shah Rukh Khan after a buzz over his relation with his Co-star Priyanka Chopra has been threw out.
The shocking fact is that the rumour regarding Shah Rukh and Priyanka's affair has spread over by a very good friend of Shahrukh khan's wife Gauri, that is of Neelam Kothari.
In whole professional life of Bollywood king Shah Rukh khan, it is a big controversy that really affecting his married love life relationship.
As per report, the buzz regarding both stars affair would seek to be a black clouds thundering on King's real life relationship with Gauri. Read more