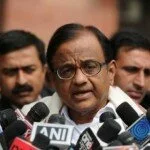 Home Minister P. Chidambaram who is always targeted by Opposition members, once again never left spare from the BJP's counter arguments over several issues linked with him.
In Lok Sabha assembly today, Opposition raised issue of Aircel-Maxis deal in which is said that Chidambaram's son Karthi allegedly involved.
BJP leader Yashwant Sinha was one who stand before raising issue, said, "Prima facie, what has happened is a big scam and government should not hush it up" as there are many issues linked with the Rs 4,000 crore controversial deal.
With demand of Chidambaram's resignation, all the opposition party members noised Lok Sabha with slogans of 'shame, shame'.
Sinha allegedly said that Chidambaram's son had 5 per cent stake in either of the companies Aircel or Maxis as a part of interest and the minister had not kept away himself when the matter came up before the Foreign Investment Promotion Board (FIPB) of which he was the head.
The mater was that under an agreement, Maxis bought 99.3 per cent of the shares of Aircel in 2006 while Chidambaram was the Finance Minister of the country.
This deal was totally illegal as per norms a foreign equity cannot buy stakes of other from more than 74 per cent. And is has also reported that Home Minister's son have in connection with this deal, but still no strict action has been taken by govt.
Dismissing all allegations, calling "wild and reckless", Chidambaram said neither he nor any member of his family had acquired or had any stake in Aircel or Maxis. Being disappointed with BJP's allegations, Chidambaram quoted from a statement of his son Karthi
"I categorically state that neither me nor any member of my family have acquired or hold any stake in Aircel or Maxis. The person is known to make wild and reckless allegations. It is deeply regretted that the privileged forum of Parliament is misused to level wild and reckless allegations against a private citizens."
Due to having much disturbance from lots of cries of slogans, the House had adjourned in twice – first at 12.30 pm till 2 PM, and then to 4 PM.
However Sinha backed with AIADMK members asked Pranab Mukherjee to act an immediate investigation over the matter and probe whether the remaining equity was sold to an Indian at a throw-away price, source reported.