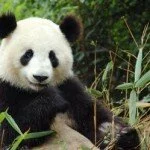 Existance of Giant pandas which are usually seen of chomping bamboo stalks and leaves, might be in danger as due to change in world in form of global warming.
As per latets study of scientists, global warming which set to wipe out much of the bamboo, food of pandas could drastically affect them for survive.
Major chances of being affected by change in climate is of Prime Panda habitat in northwestern China which could be completely lost by the end of the century, researchers told reporters.
Moreover, number of pandas in counting are going to too small as there are just 275 pandas population across the world habiating in Qinling Mountains in Shaanxi Province. Biggest reason of their very big isolation is of habitual change of human thousands of years ago.
Developing Human habitation is causing shortage of bears' places to survive as very huge amount of bamboo disappear which is 80 to 100% due to high temperatures, threatening essential food supply for them.
Bamboo which are usually reproduce every 30 to 35 years, a limited life cycle as per adaptation to climate change, are also food for other animals such as tortoise and purple-winged ground-dove.
Several breeding programs have been deveoped worldwide, but now need to deveope conservative areas that facilitate good food to pandas as per climate as per genetic diversity  which is require more for facing challenges that the panda will likely face in the future.