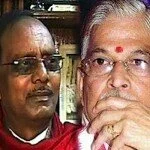 Amid twisted declaration by Ex-CAG official RP Singh on 2G spectrum that BJP leader and PAC Chairman Murli Manohar Joshi had influenced the report, Congress- led UPA attacked with a demand of probe against BJP leader Mr. Joshi, ask to clarify the allegations.
RP Singh's statement declared today's early morning that the CAG's 2G report which figured Rs. 1.76 cr losses was not his report as the loss in the report was added back despite having been deleted by him from draft.
In support of Singh's statement, Union minister Manish Tewari questioned Joshi to clear who was responsible for the 2G loss figure in the report.If in RP Singh's report prepared in May 2010, the loss was quantified at Rs20,645 crore, then how the loss figure jumped to Rs1.76 lakh crore in November 2010, while tabled in Parliament.
"Congress can demand any absurd things," Mr. Joshi hit back to Congress, calling Singh's charges are ridiculous and baseless, and Congress of acting for probe against CAG is also a 'ridiculous' thing.
Calling it Government trick to make stand via hiding its misdeeds cum corruption activities, Joshi said that CAG and PAC are two major bodies controlled under government regulations.
"RP Singh was called to the JPC as well. It is impossible to write a report under pressure. He was to write the report himself. The government, in order to hide its corruption, is resorting to such measures," Mr. Joshi further added.