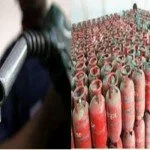 Prices of Petrol , Diesel and LPG with domestic fuel Kerosene seems to be high today as Cabinet Committee on Political Affairs (CCPA) is likely to meet evening on debate over price rate of cooking and auto fuel, a proposal by Oil Ministry.
However, no detail confirmation has been revealed that whether any decision have been taken today, resulting of meeting, but if same has done, then there is a huge hike price of fuels, influencing common man a lot.
According to reports, the Oil Ministry will also put a limit on supply of LPG cylinder to every household as 4-6 LPG cylinders per in a year at Rs 399 and for any additional cylinder requirement, they will have to pay Rs 746 per cylinder.
Even one whose monthly income will be more than Rs 50,000 or will earn Rs 6 lakh in a year, will not listed in Oil Ministry's proposal.
From last year, there is no change in price rates of diesel, cooking gas and kerosene, even State-owned fuel retailers, Oil PSUs has been bearing huge cost of production, losing Rs 1,92,951 crore in this fiscal. Three OMCs – IOC, Hindustan Petroleum Corp (HPCL) and Bharat Petroleum Corp (BPCL) are reported to lose jointly Rs 47,811 crore on fuel sales in the first quarter or Rs 5,000 crore to Rs 6,000 crore every month.
Currently, the companies sells diesel at a loss of Rs 19.26 a litre, kerosene at Rs 34.34 per litre and domestic LPG at Rs 347 per 14.2-kg cylinder, increasing subsidiary burden that would also affecting petrol price rates.
Once if three domestic fuels price rates will hike, the Public Sector Oil companies will also hike petrol rice as three OMCs are in discussion on the timing of raising petrol price and waiting consultations from the government.