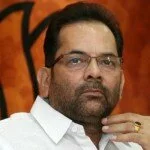 The war of words between Congress and BJP leaders are going at full swing on the second day as well. First, Gujarat Chief Minister made remarks against Shashi Tharoor's wife escalated on Wednesday and later Shashi Tharoor agev reply to Narendra Modi.
Now, BJP spokesperson Mukhtar Abbas Naqvi termed Tharoor has a 'love guru'.
Talking to media, Mukhtar Abbas Naqvi said, "For an international love guru like him, a ministry of love affairs must be created."
On Tuesday, the Gujarat Chief Minister Narendra Modi hits at Union minister Shashi Tharoor, and now Tharoor hits back at Modi and said his wife is priceless.
Further, Shashi Tharoor said that Gujarat Chief Minister needs to be able to love someone to understand that.
The Union Minister Shashi Tharoor also said his wife was worth a lot more than Modi's imaginary Rs. 50 crore. He expressed his point of view through micro blogging site Twitter, he tweets "My wife is worth a lot more than your imaginary 50 crores. She is priceless. But you need2be able2love some1 2understand that."
In the first half of the day, The Chief Minister of Gujarat Narendra Modi took potshots at Union Minister Shashi Tharoor's personal life. Narendra Modi said in a election rally today that once Shashi Tharoor's wife was his "50-crore-rupee girlfriend".
The statement by Modi came a day after Shashi Tharoor made a comeback in the Union Cabinet reshuffle.
Narendra Modi said at an election rally, in an apparent attack on Tharoor's wife Sunanda Pushkar, "Wah kya girlfriend hai. Apne kabhi dekha hai 50 crore ka girlfriend? (What a girlfriend?. Have you ever seen a 50-crore girlfriend)"
Further, Modi said, "There was a Congress leader who was a minister. He was accused of amassing wealth from cricket. He had said in Parliament that he is not connected to the Rs 50 crore in the lady's name."
Shashi Tharoor later tweets saying Modi was "silly enough" to attack his wife. He added, "We will have to see whether he (Modi) is capable of understanding that."