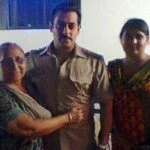 In a move to release Sarabjit Singh from the Pakistan jail, his sister Dalbir Kaur and his daughters met with Bollywood actor Salman Khan in Mumbai on Sunday.
After Dalbir Kaur met Salman Khan, she said that she is now more motivated to fight the release of her brother from Pakistan jail.
Meanwhile, the Dabangg Salman Khan has recently announced to support the release of Sarabjit and also launched an online campaign and asked people to support him and participate in it.
While talking to media, Dalbir Kaur said that Salman Khan assured them that he will personally meet the Indian and Pakistani officials to appeal them to release Sarabjit, and will join the campaign of Sarabjit release.
Further, talking to media, Sarabjit Singh's daughter Swapandeep Kaur said, "I am sure Salman would help us bring my father back home soon."
Dalbir Kaur is happy that Salman Khan is serious about Sarabjit's release, she also met actor Raza Murad for his support.
On the other hand, Sarabjit's wife Sukhpreet Kaur said, "I was happy that support was pouring in from everywhere, even Bollywood."