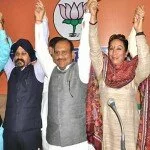 Once again, BJP hit its winning mark on Delhi's three newly civil municipal corporations and defeated Congress with a great margin in polling votes result.
In undivided MCD, BJP fields its 164 councillors ahead of Congress' 67. This is of second time that BJP won the Delhi Civil Poll in all zones after 2007 polls when BJP had won 36.17% of the around 42.35 lakh votes and Congress got 29.17%.
Polling was held for 272 wards in all three North, South and East civil corporations between BJP, Congress, BSP, JD (U), RLD and INLD.
By getting 68 votes out of 128, BJP has be the king of the war with Congress over civil polls. Congress grounded with a shameful failure with getting 40 seats.
On the remaining seats, other party members marked their symbols as BSP has bagged five seats, RLD two and JD(U) and INLD one each while ten independents have also won.
BJP has declared biggest win in North Delhi Corporation in which it won 61 seats out of 104 while Congress is ahead in 16 seats. Others are leading four wards. Beside this, in other South and East Delhi Corporation, BJP performed very well as compared to Congress.
Source reported that while talking to media about poll results, BJP's M Venkaiah Naidu said BJP's good governance in MCD and Congress' corruption resulted in the good show of his party.
However this stepping of civil polls victory is crucial to go ahead for Assembly elections that will be scheduled in next year as it is says half victory of war as this polling result is likely to raise the BJP chances of victory in assembly election.