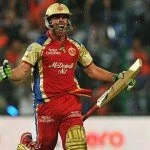 The big-boy from Jamaica, Chris Gayle, proved to be very handy for his team. His superb knock of 81 runs from just 48 balls including 8 sixes and 4 fours helped Royal Challengers Bangalore to record a six wicket over Pune Warriors India.
South African AB de Villiers also played nicely to give winning end to his team, AB de Villiers and Saurabh Tiwary hit 21 runs in the 20th over bowled by Nehra.
Man-Of-The-Match award was given to Chris Gayle, speaking in presentation, he said, "This win, hopefully, will give us the push in this tournament. There was a lot of pressure and initially I struggled with both Dinda and Nehra bowling in right areas. I looked to accelerate and that big over (13th where Rahul Sharma was hit for five sixes) that brought us back in the match."
He said, "I was actually sad that one of the sixes broke a supporter's nose."
Winning skipper Daniel Vettori said, "We needed this one and it's a great momentum shift to do it under these circumstances. We've tried to maintain our fielding and it held us in good stead tonight. It's great for the team and good for the balance of the side is AB who is a world class player."
However, the loosing skipper Sourav Ganguly said that they went for too many runs in the last couple of overs. He said, "I thought 183 was a good total, but the last over was a bit expensive. The scoop over short fine from AB was a brilliant shot. Still I would day that we're playing well, these things happen. Hope we'll bounce back."
Scoreboard:
Pune Warriors:
R. Uthappa c Harshal b Vettori 69 (45b, 9×4, 2×6), J. Ryder c Agarwal b Harshal 34 (22b, 4×4, 1×6), S. Ganguly c Agarwal b Vinay 6 (8b), M. Samuels (run out) 34 (20b, 1×4, 2×6), S. Smith (run out) 16 (14b, 1×6), A. Mathews c Kohli b Vinay 10 (7b, 1×6), M. Manhas (not out) 6 (4b, 1×4), Bhuvneshwar (not out) 0 (0b); Extras (lb-3, b-1, w-3): 7; Total (for six wkts. in 20 overs): 182.
Fall of wickets: 1-63 (Ryder), 2-108 (Ganguly), 3-117 (Uthappa), 4-164 (Smith), 5-166 (Samuels), 6-178 (Mathews).
Royal Challengers Bangalore bowling: Zaheer 4-0-34-0, Dilshan 2-0-24-0, Vinay 4-0-34-2, Harshal 4-0-29-1, Vettori 4-0-34-1, Appanna 2-0-23-0.
Royal Challengers Bangalore:
T. Dilshan c Uthappa b Dinda 4 (8b), C. Gayle b Nehra 81 (48b, 4×4, 8×6), M. Agarwal c Manhas b Samuels 9 (10b, 1×6), V. Kohli c Rahul b Mathews 16 (19b, 1×4), S. Tiwary (not out) 36 (23b, 1×4, 2×6), A.B. de Villiers (not out) 33 (14b, 2×4, 3×6); Extras (b-1, lb-1, w-3, nb-2): 7; Total (for four wkts. in 20 overs): 186.
Fall of wickets: 1-7 (Dilshan), 2-42 (Agarwal), 3-72 (Kohli), 4-127 (Gayle).
Pune Warriors bowling: Dinda 4-0-28-1, Nehra 4-0-54-1, Bhuvneshwar 4-0-27-0, Samuels 2-0-5-1, Mathews 4-0-35-1, Rahul 2-0-35-0.
Man-Of-The-Match: Chris Gayle