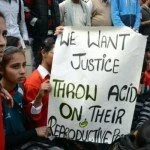 The latest health news of the 23-years-old girl of the brutal Delhi gangrape on Tuesday state that the girl is not out of danger and her health is crucial.
However, doctors added that she was a little better as compared to yesterday.
Giving brief information to media, doctors said, "The Platelet count is 80,000. This is a positive sign."
They added, "Also the internal bleeding is less than yesterday."
Further, doctors said that the girl has fever and her liver function is stable.
Doctors said that the 23-years-ol pera-medical student was alert and conscious and she is talking with people around her. Her ventilator support was less.
The girl survivor's psychological assessment is going on.