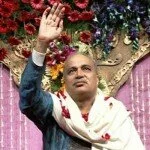 Police Monday told a Delhi court that they cannot book self-styled godman Nirmal Baba over a complaint of cheating and breach of trust given by an advocate.
"No cognizable offence is made out in the matter," the police said in a reply given to Metropolitan Magistrate Aparna Swamy on a complaint by Prem Shankar Sharma.
Police said a cognizable offence was a criminal offence in which they were empowered to register a case and investigate the offence on their own.
Sharma had requested the court to direct police to file a first information report (FIR) against Nirmal Baba for allegedly cheating, committing criminal breach of trust and hurting religious sentiments of people.
Sharma also sought action against Nirmal Baba for his alleged offences under the Drugs and Magic Remedies (Objectionable Advertisements) Act by airing objectionable advertisements on TV channels offering treatment for various diseases. (IANS)