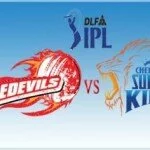 The defending champions of DLF IPL, Chennai Super Kings [CSK] might be happy after a win over Rajasthan Royals, but their dream to be in the last four team of the Indian Premier League [IPL 2012] is yet not successes.
The MS Dhoni led CSK will today take on the top ranked team of the IPL Twenty20 of this season. They will come in the field to play their match against the Virender Sehwag led Delhi Daredevils [DD] in a match played at MA Chidambaram Stadium, Chepauk, Chennai 12 May 2012 – day/night (20-over match).
Delhi Daredevils have already made its way to the playoffs but the CSK has to fight hard. Tough MS Dhoni I known for his cool decision on the field but today is a do or die match for him.
Even a win in today's match would not be enough for CSK to move to the next grade, as they are facing tough fight Mumbai Indian. And, Delhi Daredevils, Kolkata Knight Riders, Royal Challengers Bangalore and Kings XI Punjab also have four matches to play, that can change the points table.
Delhi skipper Sehwag would be the key wicket for Dhoni. MS Dhoni has already said in an interview that CSK batsman would need to led from the front.
Chennai Super Kings squad
MS Dhoni*†, S Anirudha, R Ashwin, S Badrinath, GJ Bailey, DE Bollinger, DJ Bravo, F du Plessis, BW Hilfenhaus, MEK Hussey, RA Jadeja, SB Jakati, Joginder Sharma, S Randiv, KMDN Kulasekara, VY Mahesh, JA Morkel, A Mukund, SK Raina, WP Saha†, SB Styris, S Tyagi, K Vasudevadas, G Vignesh, M Vijay
Delhi Daredevils squad
V Sehwag*, MC Juneja, VR Aaron, AB Agarkar, P Bisht, R Bist, GH Bodi, DAJ Bracewell, U Chand, AJ Finch, DPMD Jayawardene, GJ Maxwell, M Morkel, S Nadeem, Y Nagar, PT Naik, P Negi, NV Ojha†, IK Pathan, KP Pietersen, KC Raval, AD Russell, AM Salvi, LRPL Taylor, RE van der Merwe, Y Venugopal Rao, Vikas Mishra, DA Warner, TP Yadav, UT Yadav, Zafir Patel
Umpires S Das and BR Doctrove
TV umpire S Asnani
Match referee GF Labrooy
Reserve umpire K Srinivasan