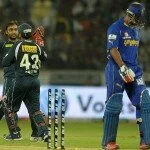 The Deccan Chargers has spoiled the party time for Rajasthan Royals. Deccan Chargers won the match by 5 wickets played at Rajiv Gandhi International Stadium, Uppal, Hyderabad 18 May 2012 – day/night (20-over match).
Win of Deccan Chargers blocked Rajasthan Royals chances of playoffs. Deccan Chargers were already out of the race. Now the eyes will be on today's Indian Premier League [IPL] matches.
Two important matches will be played today, first will be between Kings XI Punjab and Delhi Daredevils. This match is very important for KXIP, if they win the match MS Dhoni's CSK will be out of the playoffs race.
And, the second match is between Kolkata Knight Riders and Pune Warriors India, this will be last match of Sourav Ganguly.
Presentation:
RR skipper Dravid: I don't think it was the pressure, we did not play good cricket, should have recognised it was a 150-wicket not more. Very disappointed in the dressing room, tough dressing room I have just left. Don't look at stats too much, need to look at our own strengths, it was a bat-first wicket, we did not bat too well. Hope to deliver in front of our fans at home.
DC skipper White: I hope the jinx of losing here is gone, good team effort to win it. We felt we bowled well, the way the track played, we would have batted first too. When you have won only two games in the tournament, there are always nerves, need to come back well against Gayle and co. with some plans.
Dale Steyn is the man of the match: Enjoyed the season a lot, would have been better had we won more. I don't want to discuss too many of my plans (laughs), teams respect me too much sometimes. My job is to run in, bowl fast and strike early, have been used in different situations, got to do job assigned to you.
Scoreboard:
Rajasthan Royals: R. Dravid c Lynn b Gony 39 (36b, 5×4), A. Rahane c Dhawan b Steyn 6 (7b, 1×4), S. Watson b Mishra 13 (13b, 1×4, 1×6), S. Binny b Mishra 7 (8b, 1×4), O. Shah (run out) 28 (32b, 1×4), A. Menaria c Dhawan b Veer Pratap 20 (17b, 1×4, 1×6), J. Botha c & b Steyn 3 (4b), S. Goswami b Veer Pratap 3 (3b), A. Chandila (not out) 0 (1b); Extras (b-1, lb-2, nb-1, w-3): 7; Total (for eight wkts. in 20 overs): 126.
Fall of wickets: 1-8 (Rahane), 2-41 (Watson), 3-54 (Binny), 4-73 (Dravid), 5-108 (Menaria), 6-118 (Botha), 7-126 (Goswami), 8-126 (Shah).
Deccan Chargers bowling: Duminy 2-0-13-0, Steyn 4-0-16-2, Gony 4-0-26-1, Veer Pratap 4-0-31-2, Mishra 4-0-20-2, Ashish 2-0-17-0.
Deccan Chargers: Akshath c Shah b Trivedi 42 (35b, 4×4, 1×6), S. Dhawan c Chandila b Botha 26 (24b, 2×4, 2×6), J.P. Duminy c Shah b Binny 24 (31b), C. White c & b Chandila 1 (4b), C. Lynn c Watson b Trivedi 6 (9b, 1×4), Parthiv (not out) 10 (5b, 1×4), Ashish (not out) 10 (4b, 2×4); Extras (lb-1, w-8): 9; Total (for five wkts in 18.4 overs): 128.
Fall of wickets: 1-63 (Dhawan), 2-83 (Akshath), 3-88 (White), 4-102 (Lynn), 5-118 (Duminy).
Rajasthan Royals bowling: Chandila 4-0-20-1, Watson 2-0-14-0, Tait 3.4-0-35-0, Botha 4-0-30-1, Trivedi 4-0-20-2, Binny 1-0-8-1.
Man-of-the-match: D. Steyn.
Umpires S Ravi and SJA Taufel (Australia)
TV umpire JD Cloete (South Africa)
Match referee J Srinath
Reserve umpire KN Ananthapadmanabhan