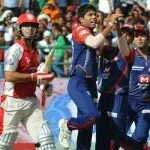 The 69th match of the Indian Premier League [IPL] between Kings XI Punjab and Delhi Daredevils has ended with a win for Delhi daredevils over the KXIP by 6 wickets.
With this win, Delhi has topped the points tally with 22 points and last hope of Kings XI Punjab to make their ways into playoffs has ended.
The Delhi team has won the IPL match quite easily in the end, with the superb batting by David Warner, playing a knock of 79 runs from just 44 balls with ten fours and four sixes.
Earlier, Kings XI Punjab lost early wickets and never looked in control. Azar Mahmood and Chitnisplayed some good cricket and took their teams total to 141 runs in 20 overs.
Presentation
Delhi Daredevils skipper Jayawardene: Good end to the league stage, couple of good buys, will start all over again in the playoffs but will look to take the confidence ahead. I don't remember when I led five fast bowlers, 160 would definitely be a competitive score.
Kings XI Punjab skipper Gilchrist: It was a much better pitch, 160 would have been the ideal total. The team fought really well, pleasure to lead the side, suspect this might be the end of the road for me in the IPL but let's see how it goes.
Umesh Yadav, Man-of-the-Match: Not a matter of habit, but good to bowl like this, good track, lot of help on this pitch, swing and bounce is a dream for a fast bowler and this was it. The feeling is always good to get such pitches after bowling on slow and low tracks!
Scoreboard:
Kings XI Punjab:
Adam Gilchrist c Aaron b Yadav 9
Mandeep Singh c Ojha b Yadav 0
Paul Valthaty c Pathan b Morkel 2
David Hussey c Pathan b Yadav 3
Siddharth Chitnis c Pathan b Russell 38
Azhar Mahmood c Chand b Morkel 36
Gurkeerat Singh b Morkel 26
Piyush Chawla b Morkel 1
Ryan Harris not out 15
Praveen Kumar not out 3
Extras: (LB—1, W—7) 8
Total: (For 8 wkts in 20 overs) 141
Fall of wickets: 1—5, 2—16, 3—18, 4—20, 5—77, 6—122, 7—123, 8—126
Bowling: Morne Morkel 4—0—20—4, Umesh Yadav 4—1—19—3, Varun Aaron 4—0—25—0, Andre Russell 4—0—51—1, Irfan Pathan 4—0—25—0.
Delhi Daredevils:
U Chand c Gilchrist b Mahmood 18
D Warner c M Singh b Harris 79
Y Venugopal Rao not out 21
I Pathan c Mahmood b Harris 5
M Jayawardene c Hussey b Mahmood 8
N Ojha not out 5
Extras (lb—2, wd—7) 9
Total (For 4 wickets in 18.2 overs) 145
Fall of wickets: 1—82, 2—109, 3—117, 4—135.
Bowling: P Kumar 4—0—33—0, R Harris 4—0—19—2, P Awana 3—0—40—0, P Chawla 4—0—28—0, A Mahmood 3.2—0—23—2.
Man-of-the-Match: Umesh Yadav
Umpires BF Bowden and VA Kulkarni
TV umpire SK Tarapore
Match referee RS Madugalle
Reserve umpire VK Sharma