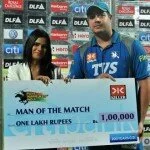 In a very high voltage match at Pune, the Pune Warriors beats Chennai Super Kings by seven wickets in a match played in the 5th season of Indian Premier League.
The batsmen's from the Pune team finish the things off nicely but the skipper Sourav Ganguly thinks that the best role played in teams win is Bowlers. The bowlers bowled out the MS Dhoni lead Super Kings to just 155 runs in the limited 20 overs play.
Thereafter, New Zealand opener Jesse Ryder and Steve Smith's super knock took Pune Warriors to a seven wickets win over Chennai.
Just few days back, Chennai Super Kings beat Royal Challengers Bangalore in a very interesting match, but last night they were not in their full form, and lost the match.
Talking in presentation, the winning skipper Sourav Ganguly said, "I am proud of the way the bowlers bowled. Ashish Nehra and Ashok Dinda did a good job. Smith has improved immensely from what I had seen last," Ganguly said during the presentation ceremony. The former India captain believed the win against Chennai will boost the side's confidence. "It was good, great cricketing pitch. When you win against a team like Chennai, you get a buzz."
While, MS Dhoni said that his team somehow failed to put their best today, he said, "Just wanted to check who wanted to bowl, asked Yomi [Yo Mahesh] whether he wanted to bowl and he looked positive, so threw him the ball. That is how you learn."
Meanwhile, Man-Of-The-Match award was given to Jesse Ryder for his superb know of 73 runs from 56 balls with seven boundaries and 1 huge six.
He said, "I wanted to bat through the innings; I wanted to continue with that idea. Steven Smith made it easy for me to do that. This was a different track to the one we played on in the first game and made it easy to play the strokes."
Scoreboard:
Chennai Super Kings: F. du Plessis st. Uthappa b Rahul 43 (33b, 5×4, 2×6), M. Vijay c Dinda b Mathews 8 (11b), S. Raina c Smith b Rahul 20 (19b, 2×4), M.S. Dhoni c Kartik b Dinda 26 (28b, 1×4), R. Jadeja c Smith b Nehra 44 (26b, 4×4, 2×6), A. Morkel (not out) 3 (3b), D. Bravo (not out) 5 (2b, 1×4); Extras (lb-1, w-3, nb-2): 6; Total (for five wkts. in 20 overs): 155
Fall of wickets: 1-43 (Vijay), 2-67 (du Plessis), 3-86 (Raina), 4-147 (Dhoni), 5-148 (Jadeja).
Pune Warriors bowling: Kartik 3-0-18-0, Dinda 4-0-30-1, Nehra 4-0-43-1, Rahul 3-0-16-2, Samuels 4-0-29-0, Mathews 2-0-18-1.
Pune Warriors: R. Uthappa (run out) 10 (7b, 1×6), J. Ryder (not out) 73 (56b, 7×4, 1×6), S. Ganguly (run out) 16 (16b, 1×4), M. Samuels b Yomahesh 8 (15b), S. Smith (not out) 44 (22b, 4×4, 3×6); Extras (lb-2, w-3) 5; Total (for three wkts. in 19.2 overs) 156.
Fall of wickets: 1-31 (Uthappa), 2-65 (Ganguly), 3-90 (Samuels).
Chennai Super Kings bowling: Kulasekara 4-0-38-0, Morkel 2-0-22-0, Ashwin 4-0-19-0, Bravo 3-0-31-0, Raina 4-0-22-0, Yomahesh 2.2.-0-22-1.